ELSA - Children's emotional suppoRT
What is an ELSA?
ELSA is an emotional literacy support assistant. Elsa's are trained by educational psychologists in the local authority. As an ELSA I work with the children (and sometimes their grown ups) to remove barriers to their learning and help them feel happy and safe at school and home.
Emotional literacy support at Shield Road
As well as valuing our children's education at Shield Road we also value their wellbeing as we recognise that children are happier and more ready to learn when their emotional needs are met.
All of us at some time in our lives will have worries or difficulties and I am here to support our children through these as needed.
Parents and carers please contact me Sophie.barton@shieldroad.org.uk
if you need any support and I will get back to you as soon as possible with relevant advice, support or resources.
Mrs Barton
School closure April 2020
Hi everyone,
During these tricky times I will be updating this page with some activities and resources you may like to share with the children.
I will put the newest posts at the bottom so just keep scrolling down.

I hope they may be useful in helping support the children whilst away from school.
Sending hugs to anyone that may need one!
Mrs Barton :).
Hello everyone,
I went for a walk today with my daughters and we were counting all the lovely rainbows people have put in their windows to make children smile and I thought I would share ours with you.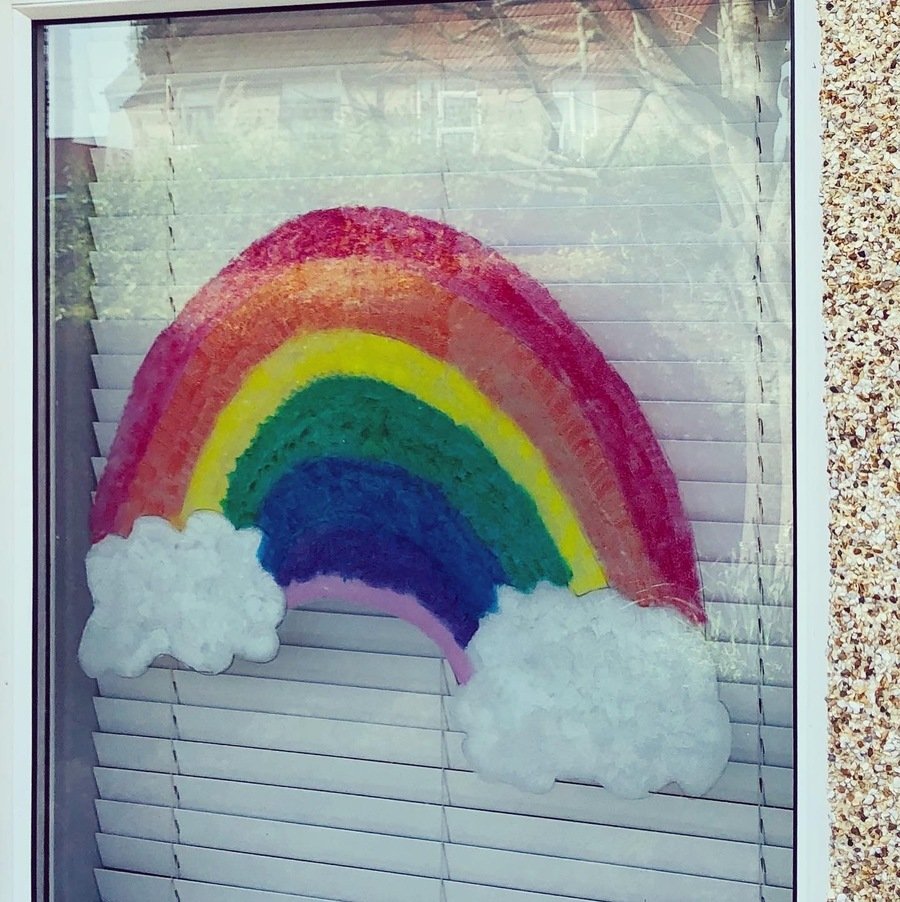 You could have a go at doing your own rainbow. You could use paint, colouring pens or pencils or different coloured pieces of paper. Help spread smiles and it will give the children something to do for 10 minutes.
Another activity to try is a 'My strength cloud.' The key workers are showing great strength at the moment by looking after us all so this could be a good talking point. The children draw a cloud shape and on different coloured strips of card/paper they write their strengths. They can attach them anyway they like and then pop them up somewhere around the house. Try to support them with telling them what you think their strengths are too. I have added some 'strength' words below to help get you started.
I would love to see if the children do any of the activities so please send them to me, my email address is above.
Keep smiling
Mrs Barton :)
Evening all,
Children are naturally inquisitive and are bound to have lots of questions about the Coronavirus and the effect its having on all our lives. Axel Scheffler - the illustrator of the Gruffalo has illustrated a digital book for children to answer key questions in a simple way.
What is the Coronavirus?
How do you catch it?
What happens if you catch it?
Is there a cure?
Why are some places we like to visit closed?
What can I do to help?
What's going to happen next?
Click this link for the digital book
https://nosycrow.com/wp-content/uploads/2020/04/Coronavirus_INSwith-cover.pdf
Take care,
Mrs Barton
Good morning,
Today I've noticed my girls are struggling with life in isolation so I was searching online for something to do (the internet can be a fabulous place to find activity ideas I particularly like Pinterest) I came across an idea 'End of isolation bucket list' and I really liked it so we sat together and did it over breakfast. They really enjoyed it and it gave them an Opportunity to talk about what they were missing most being at home.
It's now given me some ideas to do things at home to help fill our day and make them smile. For example- they said they missed the cinema so I will arrange a movie night in our front room with popcorn and I'll get them to make tickets and write out the film choices.
They also said they missed eating out so I'll get them to write a menu of their favourite meal and turn our dining room into a restaurant for the evening. Then the next day I might let them cook and serve me :) Cold beans on under cooked toast anyone?! Easy things to do and it will distract them for a while.


Why don't you have a go at making a bucket list jar too.
You'll need:
A jar or pot/container/envelope
A few pieces of paper
A pencil or pen
The children can write their ideas on each piece of paper, fold them up and put them in the jar.
They could draw pictures of each activity and decorate the jar to keep them busy for a while too!
We plan on choosing one thing out of the jar each week when this is all over.

Take care
Mrs Barton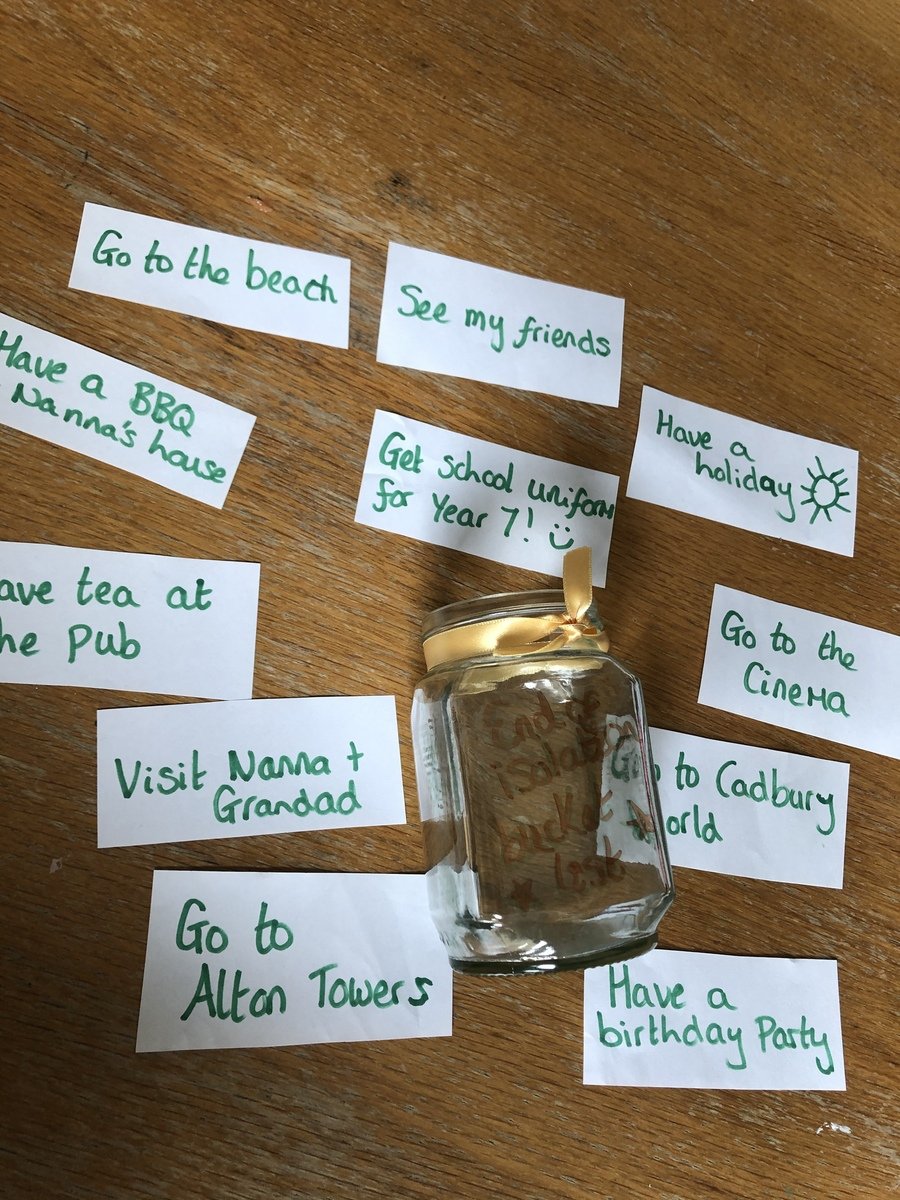 I hope you have all enjoyed the weekend even in this difficult situation. I have spent most of the weekend in the garden with my girls and this has been my 'happy place.'
You could ask the children where their happy place is.
Here is an activity I have used in school with some of the children from an ELSA support website. You may like to download it.
https://www.elsa-support.co.uk/wp-content/uploads/2020/03/Happy-Place.pdf
If you don't have access to a printer you could just draw out a bubble on a piece of paper.
Here are some questions you could ask the child about their happy place.
Where is your happy place?
What can you see there?
Who else is in your happy place?
What can you feel?
What can you smell?
Can you hear anything?
Remind children that this is a place they can think about when they are anxious, angry or worried. By doing this activity alongside them you'll know all about their 'happy place' and be able to prompt them with visualising to help calm them.
Keep safe :)
Mrs Barton
Good evening,
Some parents have said that their children are showing signs of upset and frustration and this is resulting in meltdowns and tears. It is important that we tell children that it's ok to feel these emotions, its completely natural. But, we do need to teach them how to react to them and how to help self-sooth. I will add a few grounding techniques below to try.
Grounding techniques are something we can teach children and ourselves to help us when we are feeling physically and emotionally overwhelmed.
Finger tracing -
Slowly run your finger along the edge of the opposite hand, breathing in going up and out going down each finger. Focus on one hand for a few minutes before swapping hands. Here is a video link as a guide.
https://www.youtube.com/watch?v=BAt58vJLBsQ
Distraction questioning-
Choose something that the child can do quite simply for example, can you count backwards from 10,20 or 100? How many shades of blue can you see? can you count your teeth with your tongue?
5,4,3,2,1 -
This is all about the five senses. Close eyes and take a couple of deep breaths. Open eyes and then name out loud:
5 things you can see
4 things you can feel (skin, hair, fabric, grass etc)
3 things you can hear
2 things you can smell (clothes are a good one for this)
1 thing you can taste
Mind drawing -
Pick up an imaginary pencil and imagine drawing around your feet.
Sometimes they are so heightened by the emotions they are feeling these techniques can be difficult to do so I would suggest getting them to burn off some of that energy and adrenaline for a minute or two before trying again. They could run up and down the stairs a couple of times or do ten jumping jacks.
Once calm it would be a good idea to discuss what happened before, the thoughts they were having and how it made them feel. (This doesn't have to be straight away, I usually wait until we are doing something like eating dinner or playing a game.)
You could try a few techniques together, choose your favourite one and then design a poster to put up in the house, maybe in a calm corner of a room as a reminder to use when needed.
Hope these help.
Mrs Barton :)
Hope you all had a wonderful Easter!!
Today I heard a very funny song on you tube by Matt Lucas and it really made me chuckle! Its very catchy and makes me smile every time I sing it. The children will tell you I love to sing and do silly actions! I'll post the video below. The children may have heard it already but if not it's great and has some important instructions in there about keeping safe.
Its so good to laugh. But why?
1)Laughter releases a chemical called Serotonin into our brains- sometimes called the 'happy hormone' because this is the effect it has on our feelings.
2)Laughter helps us feel part of a group and more at ease with people.
3)Laughter stops us feeling stressed, helps our bodies work better and can help us feel more relaxed.
Why not challenge the children to make up a silly song or dance and share some laughter. They could do one about staying safe too or they could write one about bedtime routine, making an ice-cream sundae or anything they like! I'd love to see them!
Other things you could do for a giggle could be:
Tell each other some jokes.
Make up silly rhymes.
Make funny faces - who can not laugh for the longest?
Watch a funny film.
Keep safe :)
Mrs Barton
Evening all,
Today I was in school and it was so lovely to see some of the children, I miss them all so much! We talked about all the things that are different right now and how that makes us feel and then we created a 'Time capsule Lapbook' This is a lovely way to record the children's thoughts and feelings. The children also wrote a letter to their future selves and popped it inside the 'you have mail' pocket to read when they are older. I will attach the templates below for you to print if you would like to make one at home with your child/ren. If you don't have access to a printer you could draw the boxes out instead.
I used A3 paper but you could also use two pieces of A4 stuck together. Fold the paper so the two outer edges meet in the middle. Then you will just need pens/pencils to write and decorate, scissors and glue or Sellotape.
Have fun and please email me photos if you do any of the activities :)
Sophie.barton@shieldroad.org.uk
Keep safe
Mrs Barton