Maths
Maths Intent
Maths is all around us and underpins our daily life; it is a critical tool in our society. Our aim is for all children at Shield Road Primary to be a part of an inclusive learning community where we aim to encourage our children to use their mathematical skills and knowledge confidently throughout their lives. They need to be confident in selecting appropriate and effective methods to solve mathematical problems in a variety of contexts whilst enjoying the fun and mental challenge it brings.
Throughout their learning journey at Shield Road we provide our children with rich and varied learning opportunities to help them become confident, engaged and enthusiastic learners. The children of Shield Road take pride in their resilience and perseverance when solving everyday problems a valuable skill for life.
Rationale
Our intent is achieved through the consistent application of the calculation policy; weekly lessons that consist of varied fluency, reasoning and problem solving; a supportive learning environment that encourages Meta cognition and self- regulation; and teachers skilled assessment for learning.
Aims:
To promote enjoyment and enthusiasm for learning in maths through practical activity, exploration and discussion.
To promote confidence and competence with numbers and the number system.
To develop the ability to solve problems through decision making and reasoning in a range of contexts.
To develop a practical understanding of the ways in which information is gathered and presented.
To explore shape and space, and develop measuring skills in a range of contexts.
To understand the importance of mathematics in everyday life.
Click to read our maths policy below:
Calculation Policy
Within our school, all concepts are introduced with concrete resources for children to feel and manipulate as they develop their conceptual understanding. As this develops, the children then move towards the pictorial and abstract stages where they work interchangeably to reinforce children's learning. The calculation policy is a progressive document and not year group dependant allowing children to build on from prior learning at each stage.
Maths in the Early Years Foundation Stage
Our EYFS curriculum is guided by the Early Years Foundation Stage framework and the document Early Years Outcomes. Mathematics is one of the specific Areas of Learning in the EYFS curriculum.
Mathematics in the Early Years Foundation Stage Curriculum comes under two strands, each of which has an Early Learning Goal attached:-

Numbers
Early Learning Goal - "Children count reliably with numbers from one to 20, place them in order and say which number is one more or one less than a given number. Using quantities and objects, they add and subtract two single-digit numbers and count on or back to find the answer. They solve problems, including doubling, halving and sharing."

Shape, Space and Measures
Early Learning Goal - "Children use everyday language to talk about size, weight, capacity, position, distance, time and money to compare quantities and objects and to solve problems. They recognise, create and describe patterns. They explore characteristics of everyday objects and shapes and use mathematical language to describe them."

The Early Learning Goals are targets for children to reach by the end of the Reception year.
We use Numicon Firm Foundations which is a comprehensive programme of activities through which children explore mathematical ideas. It is based on a proven approach to teaching and learning that builds deep understanding for every child.
As with all other Areas of Learning, the teaching and learning of mathematics in our Reception class takes place both indoors and outdoors through a wide range of practical and "hands on" activities promoting play and talk opportunities in each lesson through carefully planned provision. Therefore the EYFS outdoor area is used daily and gives all our children in Foundation Stage an opportunity to extend their maths learning through exploration e.g. measuring in the water area, counting activities with different items, practising number formations in shaving foam etc.
KS1 and KS2
Children in Years 1 to 6 are taught a daily maths lesson that encompasses 'Fluency, problem solving and reasoning questions' (also referred to in class as 'try it, use it, explore it') together they create a mastery approach to enable children to have a deeper understanding of mathematical concepts. In order to achieve this the National Curriculum (2014) forms the basis of our long term planning and the programmes set out by the White Rose Curriculum support our medium term planning, organising topics of math systematically so that each term builds on prior maths knowledge and gives time for revisiting previous topics. All year groups are taught objectives from the following units: Places value, the four operations, fractions and measurement and statistics. This teaching is also supported through the online resource of Mathletics where every child has a login provided to support learning in school and at home. Within in each topic there is a primary focus on core 'sticky' knowledge and vocabulary in order for our children to be successful well- rounded mathematicians.
The Maths Curriculum
The national curriculum for mathematics aims to ensure that all pupils become fluent in the fundamentals of mathematics, so that they develop conceptual understanding and the ability to recall and apply knowledge rapidly and accurately. Mathematical reasoning and problem solving give children the opportunity to apply their knowledge in a variety of ways. The National Curriculum requires children to be confident in both mental strategies and written methods and it covers the following areas:
Number & Place Value
Addition & Subtraction
Multiplication & Division
Fractions (including Decimals from Year 4)
Measures
Geometry
Statistics (from Year 2 onwards)
Ratio & Proportion (Year 6)
Algebra (Year 6)
Click here for the National Curriculum - Mathematics document.
The children are using their 'Timestable Rockstar' logins at school to support and encourage their multiplication learning and quick recall of number facts. This resource can also be accessed at home in your favourite browser via https://play.ttrockstars.com/. And can be downloaded from App stores to be played on phones or tablets.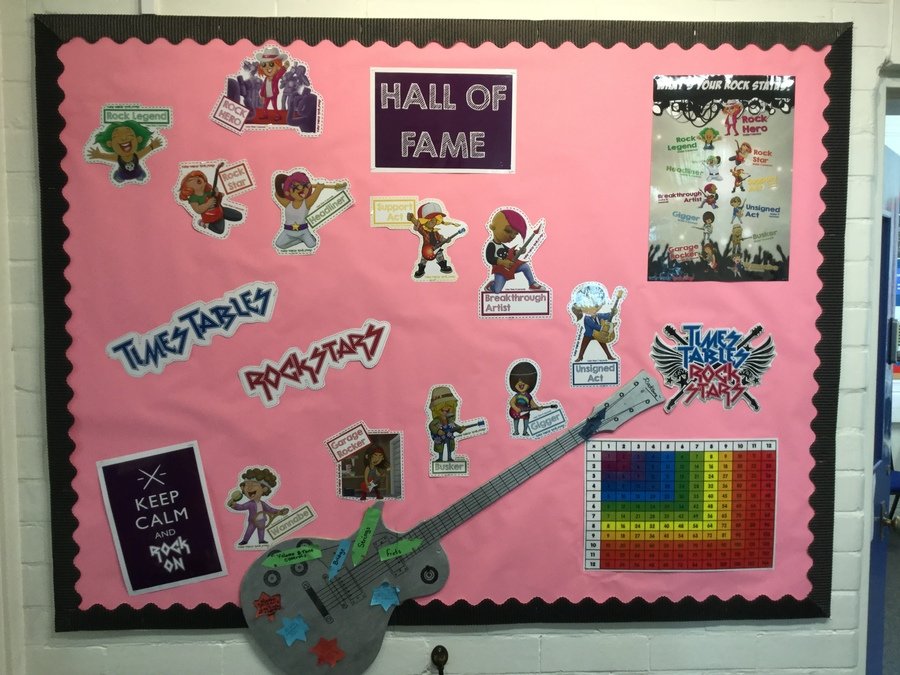 Self –regulated learning
All our children are encouraged to self -regulate their learning by having opportunities to pick their level of challenge in lessons. They are able to move themselves on to more challenging problems and are encouraged to identify their mistakes and misunderstandings and seek a solution to correct these. At the end of each lesson children can communicate clearly their level of confidence by putting a smile face or traffic light colour (red, yellow, green) or letter (R,Y,G) to show their level of understanding and confidence with the day's work. Upper KS2 children are encouraged to take more active roles in marking their work in lessons, in order to be more independent as learners.
Learning environment
Within our classrooms at Shield Road maths is represented visually through our learning walls, which grow as the learning progresses in each topic with examples of key methods or 'sticky' knowledge, vocabulary, learning targets and links to maths in real life situations. These walls are used to support teaching and learning on a daily basis and encourage children to engage with their learning environment. A range of practical resources is also accessible for children to use at all times in every classroom including number lines and times tables, which are also displayed.
Maths across the curriculum
At Shield Road we provide opportunities for the children to practice and apply their maths skills in other subjects for purpose and context. Teachers actively look for opportunities to do this through our enquiry-based curriculum, which includes the following links to each subject:
Science - observing, recording, measuring and presenting data through a range of mediums.
Enterprise projects involving money and data handling.
Links mapped into long -term geography plans for each year group – looking at co-ordinates, reading scales and distances in the context of map work. Finding differences in temperatures, rainfalls or populations.
Links mapped into history using dates to find life spans, reigns, lengths of wars, eras etc provide ideal opportunities to use number lines or time lines to show pupils the real life application of the work they do in maths.
In Art and DT – opportunities to identify and recognise patterns- including symmetrical designs and reflections, measuring and using nets are planned.
Strong links are made in ICT particularly through the use of 'EXCEL' for spread- sheets and data handling, through maths websites, apps and programs used to consolidate and extend learning in the classroom.
Impact
As a result, in Shield Road we have a community of enthusiastic mathematicians who enjoy expressing their developing mathematics knowledge and skills. They are confident to challenge and question themselves and enjoy discussing and sharing their methods and solutions.