WELCOME TO ELM CLASs
School Closure.
**Please be assured that the priority is the safety and wellbeing of the class. So alongside learning, It's also important to find plenty of time to play, relax and make memories.**
Friday 10th July 2020
Hello Elm class,
I hope you're all well and looking forward to the summer. We're still thinking of you and missing you lots. I'm very excited to be welcoming you back to into Elm class in September and can't wait to hear all about your experiences over the last few months. To say goodbye for the summer, it would be lovely to have everyone join a video call and end of year video party on Friday the 17th July. I will send the details to parents and hope you can all make it.
I hope to see you all soon.
To Parents
I will be hosting a video call party for Elm class children through Microsoft Teams on Friday 17th July at 2pm. Microsoft teams is free to sign up to and is the safest platform for us to meet on. Please download and register before the video call time if you would like to join us.
microsoft.com/en-gb/microsoft-365/microsoft-teams/download-app
I will send a link to access our class video call via text message. Please keep this secure.
If I haven't been able to get in contact with you over the last two weeks then please feel free to get in touch if there is anything you wish to discuss before the summer.
Best wishes,
Miss Bowe
| Name | |
| --- | --- |
| t6-maths-revision-miss-machin-and-miss-harris-s-group.zip | Download |
| term-6-home-learning-newsletter-year-3-and-4 (1).docx | Download |
| term-6-maths-miss-machin-and-miss-harris (1).zip | Download |
| term-6-maths-miss-machin-and-miss-harris.zip | Download |
| term-6-maths-money-miss-bowe-and-miss-spoto-s-group (1).zip | Download |
| term-6-maths-money-miss-bowe-and-miss-spoto-s-group.zip | Download |
| term-6-maths-time-miss-bowe-and-miss-spoto-s-group (1).zip | Download |
| term-6-maths-time-miss-bowe-and-miss-spoto-s-group.zip | Download |
| term-6-spag-extra-activities.zip | Download |
| y3-4-spag.zip | Download |
PSHE Home Learning - 'Making a Difference from Home'
| Name | |
| --- | --- |
| Parent Guide for Activity Pack.pdf | Download |
Showing 1-1 of 1
Bug Hunt
During week 2 of Term 4, we got our hands dirty on a bug hunt around the school grounds. We were looking for invertebrates so that we could classify them. We found worms, snails, slugs, wood louse and a spider! Try it in your own gardens at home, you'll be amazed at what you might find.
Road Safety Workshop
On the 5th March, Year 3 attended a road safety workshop. They participated in practical activities showing the importance of wearing your seatbelt, using a car seat, wearing bright/ fluorescent clothing and using the green cross code. Remember, Stop... Look... and Listen!
Biology Taster Day
On the 2nd March, Y3 and 4 became scientists as they visited the laboratories in the University of Bristol. Linked to our science topic 'Living things and their Habitats', the children dissected owl pellets and explored them under a microscope. They really enjoyed the day, particularly the flying owl!
Term 1 & 2: The Romans
Elm class have really enjoyed being historians and researching Roman life. We have learnt all about inventions, invasions, gladiators, clothes, entertainment and lots more!
Thank you to everyone who has helped the children with their own Roman projects, they were all fantastic and have received lots of compliments from the rest of the school. The projects gave our class the chance to create or research something of their choice linked to Roman life. Have a look at some of our creations and hard work.
Science Term 1 - Sound
We have been investigating how sounds are made, having lots of fun with instruments to test pitch and volume. We have explored how sound waves travel to our ears, and can even name parts of the inner ear! Elm class had lots of fun testing cup telephones. They worked best when pulled tight in a straight line.
Ask your child what they have learnt this term about sound, they would love to share their learning with you.
During our first week, we made abstract art backgrounds using crayons and wax resistant watercolour paint. The results were fantastic and really show off everyone's unique styles and personalities. These backgrounds were used for 'All about me' self portraits.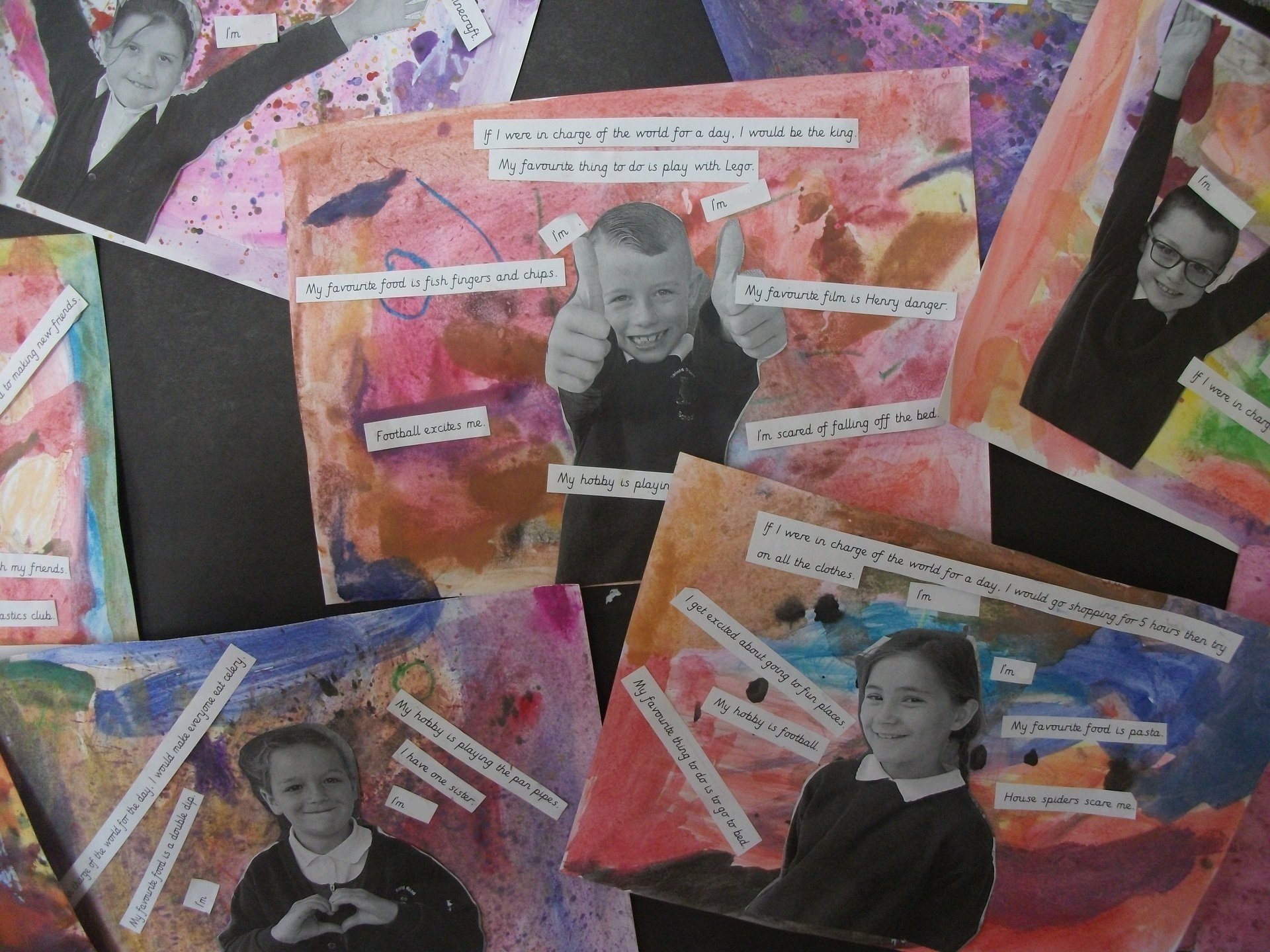 Key Days
P.E: Friday.
Please ensure you have your p.e kit in school.
Spellings: These will be handed out each Monday and assessed the following week.
Reading Journals: Please support and encourage your child to complete three activities every week. These can be done
in school or at home. Journals are checked on a Friday
Homework: Set every Friday to be handed in by Thursday. Alongside set tasks, please support in reading and times tables
practice at home.