Hello my name is Mrs Barton and I run The Hive with help from Mrs Hazzard and Mrs Beale.
I am available every morning in the playground from 8.45 if you would like to talk to me.
We will invite parents of the children in The Hive into our classroom regularly but we have an open door so please if you'd like to pop in just let me know or ask in the office.
Useful information
Breakfast is provided for the children everyday. There is a selection of cereals, fruit, toast, crumpets and a variety of toppings. We encourage the children to take the orders, cook and serve the food and do the washing up!
On a Tuesday we have Mr Horgan from Signature sports who comes in to work with us. He is following the Smart moves scheme of work as well as doing outdoor learning and sports activities to improve our coordination, gross motor skills and accuracy.
The children will read with an adult every day in The Hive. This will be a book that we keep in class but it will follow the reading scheme they bring home.
Each week on a Friday the children will bring home spellings to learn, these will be tested the following week.
If the children would like to do some more learning whilst at home they can access
Reading wise and Times tables Rockstars on a tablet or computer. If you need their log in details please ask Mrs Barton.
In the Hive we love to learn.
We use lots of different resources to help us.
Here are a few websites you may like to visit to help support your child's learning.
Click on the links (in blue) to go to the website.
Key stage 1 children
Free Phonics resources and games
Key stage 2 children
Rewards!
Children in The Hive earn marbles for our class jar. Together we choose a treat like a visit to the park or a movie and snack. Mrs Barton chooses an amount of marbles needed to earn the reward and we work together to reach our goal. Marbles can be earnt for lots of different things such as being kind or helpful, doing great work or having a fantastic attitude.
This term our mini topic is under the sea. We have read The Rainbow Fish and sequenced the story. Some of us did this as a comic strip and some as a story mountain or sequencing cards.
This week we have read Snail and the Whale. We have been learning about rhyme. We all really enjoyed making rhyming strings of real and nonsense words and we all had a go at writing a rhyming poem using pairs of words from the book.
We have been thinking about Shrove Tuesday this week. We have enjoyed making and eating yummy pancakes and choosing delicious toppings to eat with them. We have completed Pancake themed activities too - we used pancakes in maths and also used them for a game to help us learn our high frequency words and spellings! The children asked for a pancake cafe so we turned our roleplay into one, here we practised our social skills by holding a conversation, maths by adding up prices and handling money and change, writing when taking people's orders and writing menus and we even used tidying up as a learning opportunity to remind ourselves the importance of good hygiene.
Welcome to all our new children in The Hive! We are really enjoying getting to know you all.
We have had a busy start to the term.
We have created and used pictograms to look at our similarities and differences.
We have been reading The Twits by Roald Dahl. We have written a character description and used lots of adjectives to describe all the things you may find in Mr Twits beard. We have also worked collaboratively to create a picture of him. The children have been giggling away at the muggle-wumps and the revenge they take on Mr and Mrs Twit so we thought of our own funny revenges and wrote a list of instructions using time conjunctions.
We are learning to use the part-whole model to show addition facts of numbers up to 20.
This week we have been learning all about Chinese New Year. We went into our school library to research China and wrote a fact file.
We have listened to the story 'The Great Race' which taught us about the Chinese zodiac calendar and we acted it out using masks. We have also completed dough challenges relating to the animals in the story.
We watched a video clip which showed us some of the ways the new year is celebrated and thought about the similarities to some of our own celebrations. We have made lucky money envelopes and dragon puppets and even had a go at some Chinese writing.
Ask us if we can say happy new year in Chinese, we have been learning it this week!
Children in need 2019
Today we joined in with The children in need big morning move with Joe Wicks and decorated spotty biscuits. We also raised money by wearing non school uniform.
We are reading a new book.
We have enjoyed reading our new story this week. We talked about how the Crayons feel and what solutions we could come up with for Duncan to help them. We each wrote a letter to a crayon of our choice.
We are learning to use noun phrases and each successfully added one into our letters.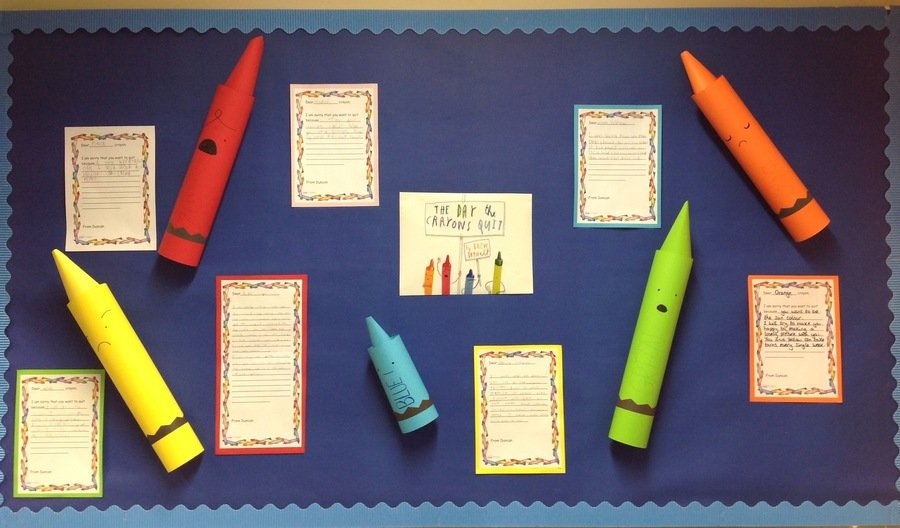 Our trip to The Wild Place
We all had a great morning exploring on Tuesday. We saw giraffes, wolves, bears, cheetahs and lots more interesting animals. The bare foot trail was a highlight of the trip! The children wanted to do this over and over again, they enjoyed getting the adults in the mud too! The boys have built lovely friendships with each other since September and this was a wonderful experience to share.
Charlie " I liked the giraffes, they were even taller than Mr Horgan!"
Monty " My favourite part was getting Mrs Barton in the Bare foot trail!"
Stanley " The mud was squelchy!"
Oliver " I liked the monkeys, they made a funny face in the window."
Dylan " I did the trail 3 times!"
Kieran " Me and Mrs Beale did the trail. It was cold."
Charlie "The trail was really good, the hay was nice - it felt warm."
We have been learning about the features of the four seasons. We have explored the way they may look and the changes that occur. We watched videos and went outside before we completed an activity where we thought of adjectives to describe each season. One of the children completed a sorting activity- putting pictures into the correct season and using words to describe each one.
Jolly the elf came to visit us in the Hive. He has been causing mischief, but we love having him!
All aboard the Polar Express
The children are really enjoying the role play area where they are using key vocabulary to retell and act out the story of The Polar Express.
In the Hive we love to follow the children's interests and during maths we have been focusing on money- counting it and giving correct change. So the children asked if they could create menus and ticket prices to use alongside the money in the Polar Express ticket office. They have been busy exploring addition and subtraction both on whiteboards, using column form and a calculator and are using some amazing vocabulary related to adding and takeaway.
"I need to give you more than that"
"Hot chocolate plus a single ticket is..."
"If you don't want the sandwich now I can take it back but I'll need to make the price less."
In the Hive we have been getting to know each other and ourselves through our learning. We have written a poem 'the best part of me' and we have taken selfies and thought about a goal we would like to achieve.
We invited our teachers into the Hive to have a Tea party! We researched a recipe and baked scones together, we wrote invitations and made decorations. We all had a great time and our teachers got to spend some time with us and learn lots of new things about us.
It's been a great start to the term and we are looking forward to inviting our parents in to our classroom soon.
Today some of our parents came in to visit us.
In Maths we have been learning about time. We have made our own clocks and used them to help us complete lots of different activities.
In English we have read the story of The Lorax. We thought about how we would try to save the world if we were The Lorax and we made our own Lorax characters.
We love our Signature Sports sessions. We have been learning to hit the ball accurately and enjoyed playing a game of crazy golf in the hall as well as taking part in Smart moves.
In our Mindfullness sessions we have looked at our thoughts. We have been talking about what thoughts we have and how they can make us feel. We watched a video about 'bubble thoughts' and it taught us that thoughts are just like bubbles, they only last a short time before they POP and go away! We made our own bubble wands from sticks and pipe cleaners which we manipulated into 2D shapes. Some of the children were set a challenge to make a 3D shaped wand!
If you would like to watch the video click below. You could ask your child to talk to you about the types of thoughts they have and how they make them feel.
We have had a fantastic end to Term 1!
Autumn is here and we have been using our senses to explore it. We've thought about texture, colours, smells and noises.
We are learning to be good citizens in The Hive and we have been thinking about how many pumpkins go to waste at this time of year! Once carved over Halloween most pumpkins will end up in the bin so we talked about ways to reuse them and reduce waste - After carving our pumpkins; we baked pumpkin muffins, had pumpkin soup, used the seeds to make bird feeders and even planted seeds to grow our own pumpkins! Keep a look out on the website for some artwork using pumpkins after the half term!
The Hive children also gave an assembly to the whole school to spread the word of reducing pumpkin waste.
We have been focusing on addition in Maths and have all made lots of progress. We really enjoyed our 'Flying machine shop' where we could each use our addition strategies.
Look at our Autumn tree pictures - we used pumpkin seeds for the leaves!