Welcome to Willow Class 2017-18
Term 6
Willow class are very proud of their classmates for joining in with Shield Road's got talent! Four of the children joined in with the talent show, singing, dancing and telling jokes. The school thoroughly enjoyed their performances and there were smiles all round.
Term 5
To celebrate the Royal wedding we had a day filled with royal learning. We solved phonics mysteries, coloured in royal multiplication pictures and wrote acrostic poems about the happy couple.
We then had our very own class weddings involving brides, grooms, bridesmaids, best men and a Father of the bride. We thoroughly enjoyed celebrating as a class!
Term 4
For World Book Day we dressed up as our favourite book characters to raise money to buy new books for the school. We wrote instructions to make under the sea cookies in the theme of Dougal's Deep Sea Diary and then we got to eat them! We also had a very special visit from Captain Gas which was very exciting.
Term 3
This term we have been learning all about meerkats. We have researched using ICT, written reports, painted, acted and been to the zoo. We thoroughly enjoyed this topic, especially our trip to Noah's Ark Zoo Farm.
Term 2 Week 3
Children in need day!
We all dressed up in our spots to raise money for children in need.
Term 1 Week 1
We've had a busy week in Willow Class! Our new topic is The three little pigs. This week we have learnt and acted out the story, painted pictures of the characters and built the houses using different materials.
Welcome to Willow Class 2016 - 2017
Term 6 Week 4
We had a fantastic day on History Day. The children dresses up as historical figures and in the class we researched and learnt about Islamabad Kingdom Brunel. We wrote non-fiction information, made portraits and created our own SS Great Britain.
Term 6 Week 1
This week Shield Road held a children's Election. In groups we came up with names for our parties, logos, badges and even policies! As a class we voted for our favourite party which was the Star Party. Jonny was the party leader and he was then put forward as our class candidate in the whole school election. Jonny did a fantastic job of going round the school campaigning for his party. Friday afternoon the results were in - Jonny is the Shield Road Prime Minister! Congratulation to him and his Star Party!
Term 5 Week 4
Reception visited Court Farm this week. We had a fantastic time watching the cows being milked, feeding the lambs, going on a tractor and looking at the farm animals. Back in school we wrote about our trip and created collages of the animals.
Term 4 Week 3
We all enjoyed dressing up as our favourite book characters for World Book Day. We had a scrap story box, which was a box filled with items which we then used to create our own stories.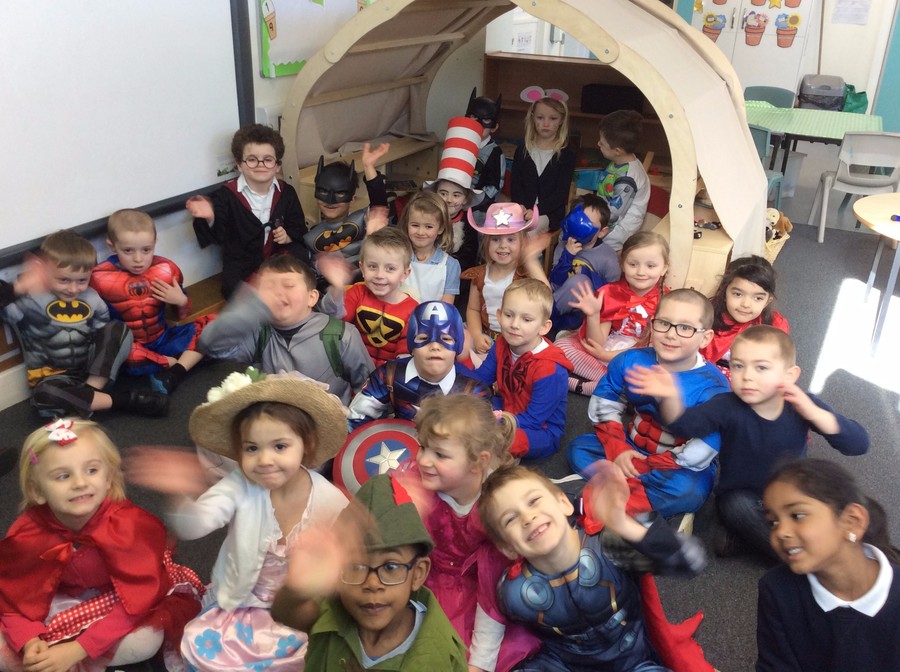 Term 3 - Week 5
Year 1 trip to The Wild Place.
We had a great day splashing around in the mud looking at the African animals. We had a workshop in which we learnt about habitats and also got to hold an Giant African Snail.
Term 4 - Week 3
Reception trip to The Wild Place.
We had fantastic day looking at the animals, learning about habitats and doing a workshop in which we read a story and made lion masks using natural materials.
Happy Christmas from all of us in Willow Class!
We hope you enjoyed our performance of the nativity Baubles.
Term 2 Week 4
This week we went to Bristol Zoo! We enjoyed looking at all the animals and took part in a Polar workshop. We learnt about penguins, the Inuit and the Arctic and Antarctic. Following our trip we have been writing about our visit and a thank you letters to send to the zoo. We have also be creating collages of our favourite animals.
Term 2 Week 2 & 3
We have been very busy this term. We have been reading the books Tidy and Stick Man, we have acted them out, made story maps and written our own book reviews. Amelia in Year 6 came and read Stick Man to our Polish children which they found very exciting!
We have also been exploring 2D and 3D shapes and how to use them to create repeating patterns.
We have had a visit from a PCSO about being safe and seen in the dark and had a visit from the Dogs Trust. Finally Year 1 have been reading their own stories to the Reception children which they all enjoyed.
Term 1
We have been settling into our new class well. We have been exploring our new learning environment and finding out where all our equipment goes! We have been having lots of fun using the class rooms and our outdoor areas. We were very lucky to have a visit from Sam the Interactive Bear who helped us with our learning, set us challenges and even read us a story!
In Reception we have been busy making new friends, discovering our new areas and going on a tour of the school.
In Year 1 we have been learning how to use and write instructions. We have followed instructions to make jam sandwiches and bird feeders and even wrote our own instructions on how to make them!
Our web page will be updated regularly with photos and information about our learning.